Your Audience.
Your Revenue.
The most flexible, expansive toolkit for newsletter subscriptions. And we don't even take a cut of your revenue.
Migrate premium subscriptions to beehiiv in just
5 minutes
We've built a suite of tools specifically to make the migration from other platforms seamless, and without any disruptions to your current readers.
Upload subscribers

Download a csv of your existing email list and upload it directly to beehiiv.

Estimated time: 1 minute.

Import existing content

Drop your current URL into our content import tool and we'll do the rest.

Estimated time: 1 minute.

Transfer premium subscriptions

Connect your Stripe account and use our migration tool to transfer your active subscriptions to beehiiv. Your readers won't be notified of the switch—their payment method, billing cycle, and other settings will all remain unchanged...and now you'll keep 100% of your revenue.

Estimated time: 3 minutes.
We have a dedicated team of support engineers to provide white glove service upon request. Contactconciergeso we can ensure everything goes smoothly.
Turn your audience into recurring revenue.
Offer custom monthly or annual pricing, and keep 100% of the revenue.
Convert free readers into paying subscribers.
Create custom offers and free trials directly in the platform. Use these to incentivize upgrades, and we'll track the conversions.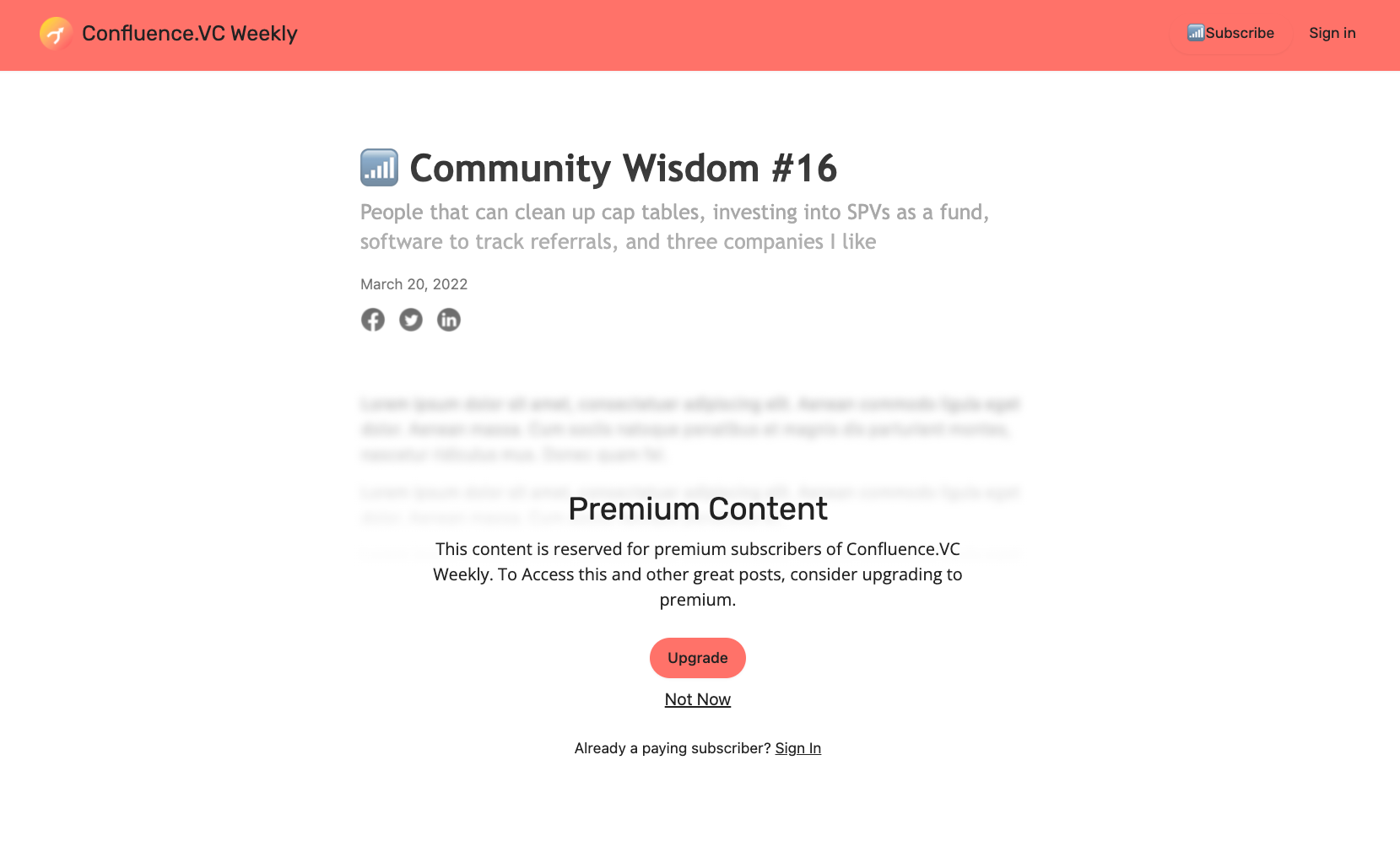 Best-in-class technology solutions right out of the box.
We handle all user authentication, content paywalls, secure payments, reader settings and more.
Tease your premium content to the world.
Send a single premium post to your whole audience—paying readers can access the entire post, free readers can read until the content break and are encouraged to upgrade.
Just to recap everything beehiiv provides under the hood...
Custom pricing
Create bespoke pricing tiers for monthly and annual payments for your readers.
Seamless user authentication
Your readers can login with a simple magic link.
Premium Paywall
We automatically handle paywalling non-premium visitors on your premium content, and encourage them to upgrade.
Custom teaser content
You control how much of a premium post non-paying readers can access before being asked to upgrade.
Promotional offers
Offer custom discounts or limited-time offers to your free readers to incentivize upgrades.
Free trials
Offer free trials to your free readers to give them a taste of premium.
Secure payment suite
We handle all the payment logic and infrastructure so you don't have to.
Full audience control
Create content for different subscription tiers, manage readers, and more.
The beehiiv advantage
Built by the same team who created Morning Brew's internal tools and infrastructure—trust us when we say you're using the best tools the newsletter space has to offer.